The year 2022 is over. It is time to analyze our results, celebrate our successes as well as our failures, learn from them, and plan for 2023.
First of all, let's make the balance of 2022.
Darwin EPG
Without giving up its optimization and continuous improvement, I have kept the EPG cornerstone intact. In this regard, I am more than satisfied and happy with the 2022 results: 25% yield, clearly higher than in 2021, and a moderate drawdown.
In summary, this is the EPG chart for the year 2022:
Returns & Investments
My expected results, according to my backtests, are between 15% (satisfactory) – 20% (very satisfactory). The year 2022 has given us a result of 25% so that is simply TERRIFIC!
On the other hand, EPG ends the year with a capital investment from DarwinIA of €580,000. Wow! Not forgetting that we reached number 1 in DarwinIA in 2022.
In addition to 28 small individual investors contributing almost 58,000 €. To all of them, thank you very much for your trust!
It leaves me only to address to my investors to say that I will continue to work as hard as I can to make your investment profitable.
How Good is that?
Well, just with the EPG results compared to my Business Plan I can celebrate this year 2022 as a fantastic year.
Let's go a little further. Would it be too bold to compare ourselves with the best Darwins of Darwinex? After all Darwinex is 100% transparent so we can dare to measure ourselves against those pure bloods of trading!
---
Top DARWINs of 2022
How to decide who have been the best Darwins of 2022? I recognize that I am not going to complicate my life. I simply go to the official Darwinex results. Here they are:
Let's just put EPG among these greats and compare:
Let's look at that list above and discuss where we rank our EPG:
Return: Mid-table, 4 out of 6
Drawdown: Not good. 7,47% DD this year. 5 out of 6. Although very close to the fourth, which had a 6.99%.
D-Score: Mid-table, 3 out of 6. Personally, I like to take into account the D-Score as a reference indicator because it is influenced by a number of important elements such as experience, risk management, profitability, consistency, etc.
Investors capital: Last one. Undercapitalized
Not bad, right? We are in as good a position as anyone else. And we don't compare EPG to just anyone!
But there is an additional element that is not in the table above and from the Investor's point of view I think it is fundamental: DIVERGENCE.
---
Divergence
In case you did not know, the Divergence indicates the difference between the actual execution of an Order and the theoretical value of that Order.
Divergence: EPG is the Best of the shortlist. These are the values of Divergence between Darwins.
| | | | | | | |
| --- | --- | --- | --- | --- | --- | --- |
| DARWIN | EPG | WNJ | YOX | JTL | SYO | THA |
| DIVERGENCE | 0.23 | 0.12 | 0.02 | 0.01 | -0.13 | -0.46 |
I bet you never had much trouble with the divergence, right? Well, look at this:
What you are seeing above is the effect of positive Divergence in EPG.
That's what it is: More than extra 6% per year of earnings thanks to the positive Divergence! Equivalent to a 24% extraprofit of the 25% profit on the original equity in EPG.
The second one of the list with a 0,12 divergence offered an extra 3% per year of earnings.
So yeah, those little points in divergence are precious for the investor.
---
Investment alternatives
Undoubtedly, 2022 has been a dismal year for "traditional" investments. It will not be difficult to beat them.
In the following table I compare EPG with the results in SP500, EuroStoxx 50, Bitcoin, or some of the so recognized and apparently safe stocks such as Apple:
| | | | | | | |
| --- | --- | --- | --- | --- | --- | --- |
| ASSET | EPG | XAUUSD | EUROSTOXX 50 | SP500 | AAPL | BTCUSD |
| RETURN (%) | 24.97 | -0.25 | -12.42 | -19.95 | -28.61 | -65.41 |
---
EPG's Underlying Strategy
As you probably already know, EPG is the Darwinex investable asset based on my own underlying strategy. I called it 'ratpenat'
Between EPG and the underlying strategy Darwinex passes its Risk manager which mitigates the risk of the underlying strategy.
My personal risk management is quite aggressive, I am perfectly aware of that. Consequently, the EPG curve will always be more attenuated than that of the 'ratpenat'.
Let's better look at the charts to understand what I'm talking about:
Reminder, this is EPG in 2022:
And this is the underlying strategy over the same period: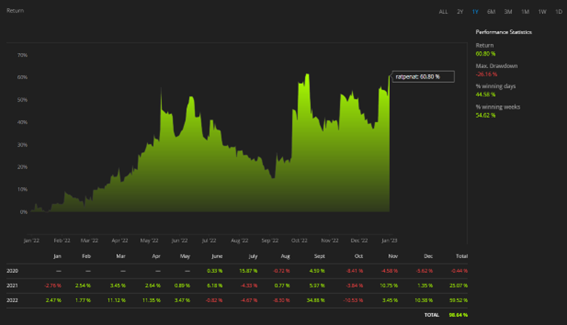 Attention! Ratpenat has returned 59.52% instead of EPG's 25%.
However, the underlying strategy is not suitable for copytrading. Note that its drawdown was 26%, while EPG's DD was only 7%. No investor would put up with a roller coaster ride like 'ratpenat'. That's the beauty of Darwinex, it allows the trader to work with his own Risk Management while offering the Investor a moderate Risk Management comparable to any traditional asset.
---
The Minnows
There we go with those little ones. I am trading another Portfolio in another broker: ICMarkets. This is not an investable Portfolio, it is not even public. But it has a name: The Minnows.
Its name is based on the method I apply. 2022 has been a fantastic year also for the Minnows.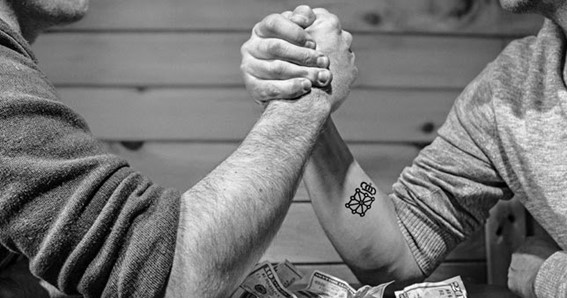 Let's look at which one performed better. Either The Ratpenat (EPG underlying strategy) or The Minnows!
2022 results in Percentages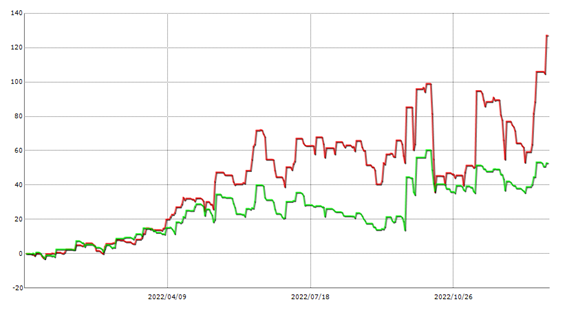 Awesome, isn't it? The Minnows doubled Ratpenat. No, they have crushed it!
Although I am very happy with the Minnows. The method itself is not as good as their return might lead us to believe. If we do a more thorough analysis between the two you will see what I mean.
2022 results in Pips
So, what is the reason for the difference in results? Once again, my friends, the genie of Risk Management.
Togetherness is strength!
Let's go one step further and combine Ratpenat and The Minnows. What would come out of the fusion of both methodologies?
2022 Pips fusion
Nice curve. I love this smoothness in the drawdowns and that slope!
I'm thinking of bringing The Minnows to Darwinex. Who knows? Nothing is decided yet. For the time being The Minnows will continue to trade on ICMarkets.
Important note! I am not paid to express any of my opinions. The references I make for the brokers I work with: both Darwinex and ICMarkets, are completely disinterested. I do not claim to sponsor them nor do I receive any kind of compensation for talking about them.
---
Some last words for DFO
DFO is another Darwin of mine. He is EPG's big brother, as I like to call him and currently remains inactive on standby. I have some projects for DFO but nothing concrete yet, as soon as I get the backtests completed and above all! Get funding for this new Project in DFO, maybe I will launch it.
---
That's it!It only remains for me to wish you all a Happy New Year 2023!