I was wrong. Time for admitting and correcting mistakes
First of all, I owe some apologies for my lack of diligence in posting on this blog. When I created this website I set myself the goal of maintaining an average of one post per month. I think it is healthy and necessary for potential investors, and above all; for current investors. Maintaining a regular communication keeping us updated about the evolution of our trading, news, reasons for concern, share joys when they come, etc..
The truth is that when things go wrong it is more difficult to expose yourself and the effort of writing is greater. And to be honest, things are going badly.
---
Annus Horribilis
We will remember the year 2023 as an Annus Horribilis.
Life's capacity to surprise us is unlimited
Life's capacity to surprise us is unlimited. We are exposed to deception and betrayal in despicable ways. So yes, I was wrong in many ways. Fortunately for trading, robots are free from the emotions of a devastated heart.
In trading we continue to make a history by maintaining a negative trend that has been going on for months too long. In my last analysis of the current Drawdawn we already set a target for 2023 to finish this year at Breakeven. The truth is that either we radically change the trend or we are not even going to meet this modest target.
However, I remain optimistic and believe it is possible. This is a target that at the beginning of this year, and even more so coming out of a magnificent 2022, would have seemed pitiful. But right now finishing at Breakeven, looking at where we are now, seems like a great victory.
So if I had to bet, I would bet that we will finish Breakeven. 10% in 4 months? It's doable!
---
Mistakes
I have always believed that we should not change the philosophy and structure of EPG, I am sticking to this line, I have no doubt about it. I test any new idea to the point of exhaustion and if I decide to take it to Live, I apply it to other portfolios. This is the reason why I created Darwins MIW and DFO, which are not doing any better than EPG.
However, in EPG I am applying small improvements that I think allow either a smoother curve or more robustness. For example:
Optimised Risk Management: I am applying a strategy based on several ideas taken from Van Tharp's literature.
New EA's in the Portfolio built under the same EPG pattern.
First mistake: Gold
Unfortunately I have made a fundamental mistake that has had quite catastrophic consequences at EPG: The introduction of a new market. Besides Forex, EPG for the first time in its history started trading Gold.
As I said, this was a fundamental mistake. The basis of the error is the assumption that in 2023 the stock markets would collapse, therefore Gold as a safe haven should be in an uptrend. Consequently, I introduced 5 EA's always trading long Gold; see the entry Gold Rush. The reality is that Gold has been behaving sideways in 2023 and these EA's are draining a Portfolio that is already unable to sustain its own performance.
I have reduced my exposure to Gold to a minimum. I believe my Gold EA's are good but in the current market situation they cannot deliver positive results.
Second mistake: Technical problems
I have had occasional technical problems with my VPS. There have been several weeks where the server would reset and orders would not go live or would not update or the slipagge was outrageous…
It has been insane dealing with MT5, recovering passwords, reconfiguring everything.
I finally signed up for a new VPS and have completed all the migration work. This new VPS is more powerful so technically we can say that we are now 100% covered.
Obviously we cannot blame these technical problems for EPG's bad behaviour, but they certainly could not have come at a worse time.
---
Backtests
Ok. This drawdown sucks. That's a fact. Let's now see what the backtest of our EPG portfolio looks like, maybe it will give us a clue or just a bit of perspective about the moment we are living in:
What we see is that 2023 is indeed the worst year of EPG. The results of the backtest do not coincide exactly with the Darwin backtest because the backtest does not apply the same risk engine applied by Darwinex and because the backtest is not an exact copy of the reality since throughout 2023 we have made modifications both in some EA's that enter and exit as well as in the Risk Management.
On the other hand, if we look at the Portfolio curve over the last 3 years: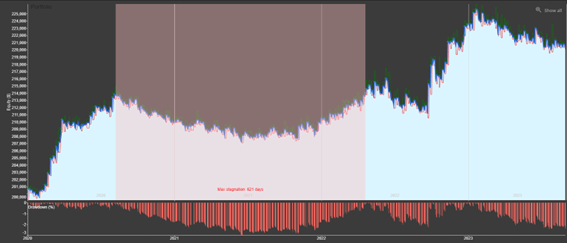 And expanding our equity for the last 13 years? There we have it: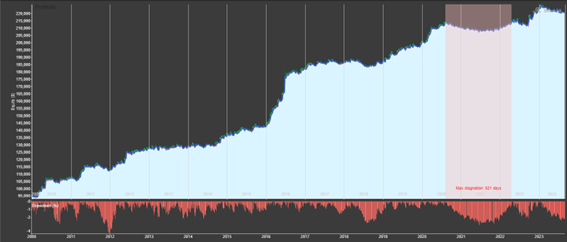 ---
Conclusions
I remain convinced that the concept of my Darwins – EPG, MIW, DFO – is sound. In the specific case of EPG; expanding its Backtest to a multi-year timeframe we see that visually at least there is nothing particularly striking other than the fact that we are in one of its worst darwdowns of all time (more than 13 years).
Not for nothing is it said that the worst drawdown is always yet to come. We live the proof of this reality in our own flesh.
Let's hope that in the coming months we can close the year 2023 at Breakeven – our maximum target at the moment – and put our Annus Horribilis behind us.
---