I am continuously trying to improve the stability and performance of the Darwin EPG. The last time I introduced a new breed of robots was on the EURJPY pair as I announced in the "New Kids on the block" article. That was back in March 2022, and by the way that pair has performed well so far. So, after a little more than 1 year we can consider that it was a good decision and an advantage to enhance EPG with the EURJPY pair.
Those of you who follow me will know that I am a Forex trader. I trade Forex deliberately and I have also argued this on several occasions. Now I have decided to open a new market for EPG and this market is going to be Gold!
Gold Rush is here!!
Motivations
What has happened? Have we renounced our fundamental principles? Have we sold out for a few miserable gold coins?
Well, not exactly. I still believe that Forex is the market that over the long term can give the most stable returns with my style of trading. However, I also believe that the economy is currently in absolute shit and that at any moment the system could break apart. Yes folks, I am not optimistic at all.
My view on macro-economics leads me to believe that Gold, as a safe haven asset, is going to have a bullish season in the coming months or years. In fact, Gold is already in an uptrend: +11% over the last year, +10% Year to Date, …
If my previous hypothesis is correct, it is reasonable to think that Gold will maintain an upward bias in the medium/long term. That gives us more than enough of an argument to take advantage of that bias by entering the Gold Rush, trading Gold always long, with the EPG methodology.
New Kids on the Block
Here we go! After many hours of searching, hard work and a lot of CPU wasted. Here we have our golden nuggets. Do you want to see the backtests? Here are our pretties: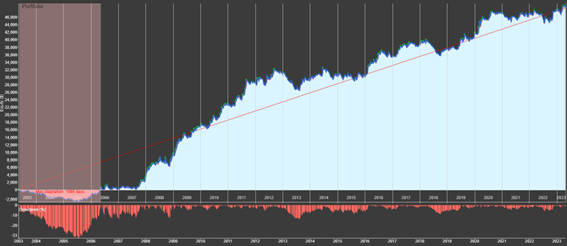 The one above is a 20 year backtest of a portfolio of 5 robots already trading in real. Does it look good? Well, don't be fooled by 20 years of backtesting. If we zoom in in 2023 we will see something like this:
Damn it! We've introduced 5 robots that barely improve the performance of our EPG. What the hell is this game?
Well, yes, these robots won't really provide spectacular performance, but they do improve the EPG curve noticeably. In other words: They minimise drawdowns in a 20-year backtest. And, after all, they do bring some extra profitability.
Opportunity
Is this the best time to introduce 5 new robots that do not show spectacular performance in 2023?
Probably not the most appropriate time. For two reasons:
Worsening investor confidence
EPG is in one of the most severe drawdowns in its young history. Suddenly adding 5 new robots to the Portfolio can cause a major shock and the room for manoeuvre to withstand further declines is very small without losing the confidence of our long-suffering investors.
Risk Management
The 5 robots improve EPG's stability. Our proprietary Risk Management engine leads us to increase the lotage of our trades. Again: We can easily exceed our historical drawdown and in addition; the Darwinex risk engine will not know how to interpret an increase in aggressiveness in EPG, reducing our D-Score, penalising us in DarwinIA, etc.
---
Damn it! Fuck the Gold!!!
No my friends. I believe in my methodology. I'll stay true to my style, always, until the end…
Postscript
I want to thank my best friend Germán Lechuga. Golf enthusiast, photographer, marketer, eternally aspiring trader, hidden philosopher. For lending me his photos of the Gold Rush and images of the Klondike. You will find Gold reading his articles at Medium