Before the Drawdown
DarwinIA contest. Winner of the Month!
I have a little surprise for you this month: EPG got the first position!!
What a way to finish the Drawdown of the previous months! We were having some period of stagnation and got a spectacular September that rocketed our equity with an awesome 10,5% growth which give us a new ATH (All Time High).
Again, I had the feeling that October could be the end of the stagnation period. You can read it on my previous post:
However, I didn't expect such a crazy month. It is rare on EPG, although perfectly possible, those violents moves. Week after week central banks have been shaking up its economic policies and with it their respective currencies. EPG could take advantage of this world madness.
I guess that any strategy based on indexes or stocks must be in deep pain, specially because those assets are strongly biased on the long direction. Whilst EPG feels really comfortable not caring which side bulls or bears win as long as we hold the trend enough to take some profits from the table.
We win the trophy. First position. 500,000 € allocation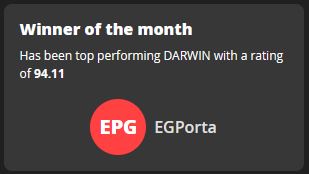 I feel proud puting EPG side by side with so much talented traders in Darwinex.
---
Message to the investors
In the first place, as always, I want to thank the investors for the loyalty and trust in my work. Holding strong on stagnation periods. I feel honored.
Now, what is to come in October?. Well, historically October has been the worst month of the year for EPG. You can see it on the Darwinex platform where 2020 -3.77% and 2021 -2.04% were awfull. On top of that the gambling mindset would suggest that after a good strike comes a bad strike; or was it the other way around?
I haven't checked my backtests to try to predict next month because, honestly, I don't care too much. I'll just continue taking care of EPG strategies, keep all my stuff in good shape. Business as usuall
Thus, let's enjoy those profits and our new ATH. EPG is working as expected. October is the start of Q4 and hopefully we can close the year adding some extra points in our performance.
Take care!